Binghamton, New York
What is Binghamton? I'm sure for most, that is what made you press 'that button' and brought you to this page. Binghamton is a city located in Upstate New York, about 60 miles due south of Syracuse, situated along the New York/Pennsylvania border. Most importantly, and why it is given its own page here in our little corner of cyberspace, is that Binghamton is our hometown, our base of operation, the starting point for all of our adventures.
Within our small city, we have many sporting events and teams to follow and support. Below is a synopsis of the teams that we watch and support with regularity, living and dying with their fortunes and misfortunes.
Binghamton Senators
As you probably have surmised by looking at the other pages contained here, hockey is our number one and most favorite sport. We are season ticket holders for the American Hockey Leagues Binghamton Senators, and in years past we based a lot of our travel schedule on where their away games were being played. As the teams on ice play waned, and our own hockey players travel schedule kicked into high gear, our trips to follow the B-Sens has diminished.
Of all of our travels and all of the rinks we have seen (and you have to allow me to be a 'homer' here), the Arena is number one in my book. Between the knowledge of the fan base in relation to hockey and the sheer volume on most nights, this place is the best place in the world to watch a game. Biased? Sure, but when you've watched games in one building for thirty years you're allowed to show a little favoritism.
Binghamton Mets
The Binghamton Mets are the AA affiliate of the New York Mets. Playing in the 6,000 seat NYSEG Stadium, we usually take up residence in Box 3 on a weekly basis when the Mets are at home. We haven't followed the Mets on the road as we have the Senators, mostly because many of their 'opponents' are quite a ways away, and with so many games being watched at home, we use the time their on the road to do other things.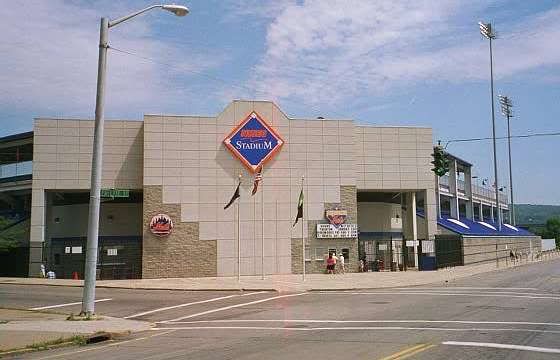 As with the Senators, our attendance at the Mets games would be pretty hard to track. Even though we don't have season tickets, we do go to games on a regular basis. As for NYSEG, just like the Arena, this is home and has that warm and fuzzy feeling to it. To sit in the stands on a lazy summer night, watching the home team play while occasionally being able to watch a hot air balloon or two float by in the distance, well, it doesn't get much better than that! The stadium is kept up well by the B-Mets staff, and although it may not be as 'flashy' as some of the other newer stadiums out there, it's still a great place to watch a game.

Binghamton Bearcats
In 2004, the NHL decided to take a year off, leaving many hockey fans with some extra time on their hands - and we were no exception. The local university, Binghamton University, has recently moved up the NCAA ladder and made their way into Division 1 and America East. Along with the move to Division 1, the Bearcats and Binghamton University completed a beautiful, brand new 'Events Center'. Seating around 5,000 for basketball, we spent quite a few nights over the past winter treking out to the university to watch the guys play.
We finally broke down and bought men's and women's basketball season tickets for the 2006-2007 season after realizing that we were attending over half of each teams games anyways.