Winnipeg, Manitoba, Canada
Sunday, October 26, 2003 – Thursday, October 30, 2003
Left Binghamton on Sunday, October 26 and drove as far as Niagara Falls, Ontario. Stayed at the Sheraton Fallsview. Drove from Niagara Falls, Ontario to Hamilton, Ontario. Flight out of Hamilton airport aboard WestJet to Winnipeg. It was snowing and I mean SNOWING when we landed in Winterpeg. Couldn't even see the ground on our way down, and I actually thought we were still in the clouds it was so white! Snow covered the streets as we made the drive via taxi to our hotel. Stayed at the Clarion Hotel and Suites across the street from the Winnipeg Arena, and had an awesome room! Jacuzzi tub and all, with a view out the window of the mall across the street and Winnipeg Arena next door.
We met up with our Manitoba travelling partners Gary and Becky Severcool when we got there and toured around the shopping mall across the street. We went out to dinner with Gary and Becky that night, along with Senators radio guy Grady Whittenberg. Ate at a little Irish pub (I can't recall the name of it now though). The next night was the hockey game between our Sens and the Moose. Gary and Becky met us in our hotel suite before walking over to the game, and we were indoctrinated to the drink which is Caribou! All I have to say is beware those faint of heart when it comes to the consumption of alcohol! Headed over to the game (not really caring that it was freezing out at that point because we were pretty much numb) and watched as both teams played to a tie. Great old arena they had there in Winnipeg (was replaced this past season). You could feel the history in that building as you sat there and looked around - you really don't see buildings like this anymore as they are being replaced with shiny, brand new temples filled with skyboxes and flashy amenities for the big spenders. Of all of the rinks we have been in, this is in the top five for me for many reasons. It was just a great place to watch a game.
We left Winnipeg on Wednesday, October 29, flew back to Hamilton via WestJet. Actually ran into the Senators team in the airport in Winnipeg as they were leaving the same time that we were. We stopped in Niagara Falls, Ontario for dinner at the Rainforest Cafe, and then drove as far as Rochester (Henrietta), New York – to tired to make the rest of the drive. We stayed at the Comfort Suites on Hylan Drive and found a place that delivered wings and pizza - and these were by far the best wings we had ever had! We made sure to mark this hotel and location down, and if we were ever in need to disappear for a night this is probably where we would end up! (as we have since that trip).

Our travelling buddies with the Moose's Mascot!

The sweet nectar of hockey!

The Moose's Mascot, with a good shot of the seating in the background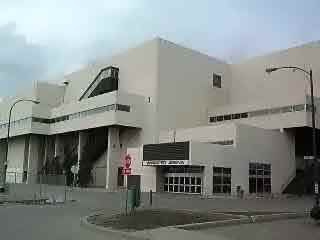 Binghamton 2 Manitoba 2
Winnipeg Arena Tue, Oct 28, 2003 at 7:30 pm CST

SCORING SUMMARY
Period 1
Binghamton - Serge Payer (Dennis Bonvie, Andy Hedlund) 9:21
Period 2
Binghamton - Daniel Corso (powerplay) (Brooks Laich, Josh Langfeld) 16:46
Manitoba - Brandon Reid (Ryan Ready, Kirill Koltsov) 19:48
Period 3
Manitoba - Ryan Ready (Tyler Bouck) 14:06
Overtime
(no scoring)


PENALTIES
Period 1
Binghamton - Andy Hedlund - (Holding), 2 min, 9:34
Binghamton - Andy Hedlund - (Interference), 2 min, 13:34
Period 2
Binghamton - Andy Hedlund - (Unsportsmanlike Conduct), 2 min, 6:12
Manitoba - Brandon Reid - (Holding), 2 min, 6:12
Manitoba - Zenith Komarniski - (Fighting Major), 5 min, 11:10
Binghamton - Jan Platil - (Fighting Major), 5 min, 11:10
Binghamton - Andy Hedlund - (Interference), 2 min, 11:36
Manitoba - Nathan Smith - (Slashing), 2 min, 16:23
Period 3
Binghamton - Peter Smrek - (Roughing), 2 min, 5:10
Manitoba - Kirill Koltsov - (Hooking), 2 min, 8:44
Binghamton - Brian McGrattan - (Slashing), 2 min, 15:22
Binghamton - Steve Bancroft - (Roughing), 2 min, 17:09
Overtime
Manitoba - Pat Kavanagh - (Roughing), 2 min, 0:23
Binghamton - Serge Payer - (Roughing), 2 min, 0:23

GOALIES
NAME DEC MIN SHOTS SAVES
1 Ray Emery TIE 65:00 40 38

29 Tyler Moss TIE 65:00 19 17

GAME LENGTH: 2:19
ATTENDANCE: 4,965
REFEREE: Brian Pochmara (43)
LINES 1: Garth Loeppky (22)
LINES 2: Greg McDonald (67)
Miles Driven: 560 Miles
Miles Flown: 2692 Miles
Total Mileage: 3252 Miles