South Jersey, New Jersey
Saturday, August 2, 2008 - Sunday, August 3, 2008
What? A weekend off? No kids? Nothing on the calendar? Are you serious?? You know what that means don't you? ROADTRIP!
Quite literally our first 'free' weekend since about May, Jill and I finally found some time to head to South Jersey and visit with our long lost friends Jenn and Bill! It had been way to long since we had seen them last (by my calculation, it was probably their wedding in November of last year), so Jill and I took the 'off weekend' opportunity to travel down and see them.
We hit the road shortly after I got out of work on Saturday morning, heading down 81 to the NE extension of the PA turnpike. We made it as far as the 476/76 interchange and hit TRAFFIC, and I mean TRAFFIC! This area (at least in our limited history of going through this area) is notorious for backups and delays, and to make matters worse on this morning - there was construction. We made a quick u-turn and headed back to 276, which we took to the NJ Turpike and then down into South Jersey. We arrived at Jenn and Bill's humble abode in Atco, New Jersey around 1:00 or so.
They gave us the grand tour of their town house (very nice pad if I do say so), including Billy's collection of Flyers 'stuff' and other sports memorabilia (gotta give him props for the collection, even if it is the Flyers! :-) ). We met their 'puppy' Lexi as well, who welcomed us as it one of the family!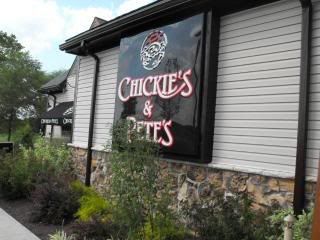 Then (cue the fanfare) it was off to Chickie's and Pete's!! Woo hoo!! That's all Jill and I could think about as our stomachs growled all the way down 476 - crab fries! And beer of course!. So, for lunch our gracious hosts appeased our craving by taking us to the Chickie's and Pete's in Egg Harbor Township. Our eating choices included Buffalo Wings for the table; Crab Fries for the table; Jill and Billy both had hot peel and eat shrimp; Jenn had a Magooby, which was a sandwich with onions, pickles, shrimp, crab fries on a roll (talk about damn good looking sammie!); and I had the boring buffalo chicken sammie (which was very good in its own right, but not even in the same league as the Magooby!). A few beers were consumed as well (of course), and then it was back on the road further down the South Jersey coast.
We ended up in Cape May at the lighthouse there. We had thoughts of going to the zoo, but by the time we got there it was closing a short time later. The Cape May lighthouse is actually where Billy asked Jenn to marry him (and she said yes of course), so it holds a special place in their hearts.
From there, it was back up the coast a bit to Wildwood, New Jersey and the boardwalk there. There are three separate 'amusement park' areas on the boardwalk. We hit a couple of them going on some rides (including this roller coaster with about a 100 foot drop where I was yelling "HOLY SH*& HOLY *& HOLY *& the entire way down!!), and then had a mediocre dinner at Boyd's Texas Style BBQ (we'd all had better, that's for sure).
With it getting pretty late, we drove back to Jenn and Bill's house where we sat around watching various vids on YouTube and putting a pretty good dent in their alcohol supply!
On Sunday morning, after sleeping in a bit, we dressed and headed out. Our plans for the day were to visit Jenn's parents house (and their tiki bar!) and then go to the Camden Riversharks game afterwards. Well, we made it as far as Jenn's parents house, and we had such a good time hanging out with them that we just stayed there for the afternoon (and put yet another dent in THEIR alcohol supply as well!). Around 5:30 or so, Jill and I started north.

Ahhh...a tasty libation after a long drive!

Otters found a new friend! (he's still not sharing his beer!)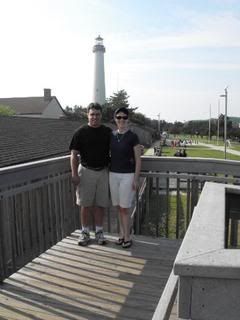 Tim and Jill at the lighthouse in Cape May

Billy and Tim contemplating going for a swim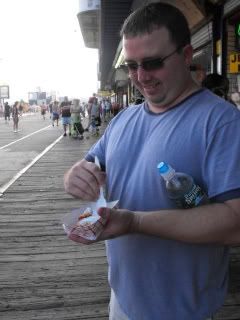 Billy chowing down on a deep fried brownie
Editors Note: A special 'thanks' goes out to Jenn and Bill for being great hosts and letting us invade their home for the weekend. It was a great getaway with dear friends. Also, thanks to Jenn for providing the pictures for this page as well as letting me jog my memory by reading their blog! You guys are the best!!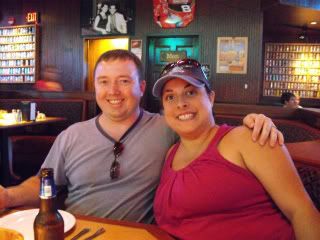 Our gracious hosts for the weekend
Total Mileage: 621 Miles