Seattle, Washington
Vancouver, British Columbia
Monday, February 21, 2005 - Saturday, February 26, 2005
Flew from Binghamton to Dulles International aboard United Airlines, and then on to SeaTac Airport between Seattle and Tacoma. Stayed at the Kimpton Hotel Chains 'Hotel Vintage Park'. Great hotel, friendly staff, and a great location. We ate at Mario Batali's fathers restaurant, Salumi's, when we first got there. Great food! Small place with little seating, but that didn't stop the continuous influx of people. After eating lunch there, we headed off to the hotel. Upon arriving in our room, I found a surprise waiting for me! Jill had arranged to have a birthday cake delivered from one of the best bakeries in Seattle! It was one of their 'signature' cakes, and it was delicious! What a great surprise for me! On top of that, the hotel was nice enough to send up a bottle of champagne and glasses to go along with the cake and our 'celebration'! Our first full day there, we headed down to Pike Place Market. Had breakfast at the 'Krumpet Shop', before heading out and exploring the market. Dinner was at The Brooklyn Seafood, Steak, & Oyster House. We went to Vancouver for a day, toured around Granville Island and then through Stanley Park before heading back to Seattle. Upon returning to Seattle, we ate dinner at Ray's Boathouse, a quintessential restaurant in the northwest. We also took some time to go to Archie McPhee's, a nick nack store of sorts similar to 'South of the Border' (just not as expansive). We also toured through SAFECO Field, home of the Mariners, and attended an NBA game before heading back home.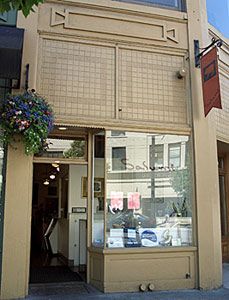 Salumis in Seattle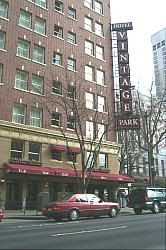 Hotel Vintage Park

Holding a press conference for the Mariners

Tim blowing out the candles on his birthday cake!
Sporting Event:
Seattle SuperSonics vs Minnesota Timberwolves
Seattle SuperSonics 98 Minnesota Timberwolves 88
SEATTLE (AP) -- Vladimir Radmanovic joked before Friday's game that he was ready to cut off his sore right wrist. He might want to hold off on that plan. Radmanovic had 13 of his 17 points after halftime to go with Ray Allen's game-high 32, and the Seattle SuperSonics rallied from a 14-point second-half deficit to beat Minnesota 98-88 Friday night. Allen scored 24 in the second half and Radmanovic found his stroke, making three 3-pointers in the fourth quarter for Seattle. ``Hopefully it'll be the old, same wrist soon,'' said Radmanovic, who injured the wrist Feb. 13 against Dallas. After trailing 65-54 late in the third quarter, Seattle outscored the Timberwolves 48-23 over the final 14 minutes of the game to extend its lead over the Timberwolves in the Northwest Division to 12 1/2 games. ``That was a good effort by the guys in white,'' Seattle coach Nate McMillan said. ``They kept working, they kept with the game plan and we finally broke in the fourth quarter and were finally able to knock down some shots.'' Kevin Garnett had 31 points and 14 rebounds for Minnesota, his highest point total since scoring 27 in a 93-90 loss to the Los Angeles Lakers on Jan. 19. But Seattle's defensive rotation on Garnett began to wear him down late in the game. Garnett had just 4 points in the fourth quarter and took only four shots. ``We're undersized right now,'' Garnett said. ``I'm doing whatever I can to give us an advantage.'' Seattle won its third straight following the All-Star break and snapped a two-game home losing streak. It was Minnesota's second loss in as many nights after the Wolves fell to the Los Angeles Clippers on Thursday. Minnesota led by as many as 14 in the third quarter, but Seattle outscored the Timberwolves 18-9 over a 5-minute stretch of the third and fourth quarters to cut the lead to 74-72 with 9:16 left. Fred Hoiberg made a 3-pointer for Minnesota, but Seattle scored the next eight points, capped by a 3-pointer from Allen for a 80-77 lead with 6:40 left. It was Seattle's first lead of the game. Two straight baskets from Garnett -- his only points of the quarter -- tied the score at 83. Allen and Radmanovic scored the next nine points for a 92-83 SuperSonics lead with 2:52 left, and Minnesota got no closer than six. ``We knew they were going to make a run at us,'' Minnesota coach Kevin McHale said. ``The last 14 minutes of the game they just went at us. We just did not respond at all.'' Rashard Lewis added 16 for Seattle and Vitaly Potapenko had 10 off the bench. Wally Szczerbiak scored 14 off the bench for Minnesota, which turned the ball over 19 times, compared to just seven for Seattle. ``You just can't have 19 turnovers on the road,'' Garnett said. ``You can't win any game like that.'' Minnesota played without forward Eddie Griffin and center Michael Olowokandi. Griffin was placed on the injured list Friday after breaking his left index finger against the Clippers. Olowokandi missed the game with the flu. Minnesota led 44-35 at halftime behind 17 points and nine rebounds from Garnett. Seattle shot just 26 percent in the first half and settled for many long jump shots late in the shot clock. A 10-4 run midway through the second quarter gave Minnesota a 9-point cushion. Potapenko had 8 points in the second quarter to keep Seattle close. ``We played in the second half the way we're supposed to play,'' Allen said.
Total Driving Mileage: 280 Miles
Total Flying Mileage: 6,212 Miles
Total Mileage: 6,492 Miles