Orlando, Florida
Sunday, September 10, 2006 - Wednesday, September 13, 2006
This was the planning trip for our upcoming December wedding at Disney!! Jill has done an awesome job at planning most of the wedding via e-mail and phone, but we wanted to go down to Florida and see 'first hand' where the plans were at.
We left EARLY in the morning on Sunday the 10th - we're talking 0200 hrs here!! Made good time to Rochester, where we boarded AirTran Airline for our trip to Orlando. This was our first time at the airport in Rochester, and we found it to be nicer than we had expected. In comparison to the other upstate airports, there are more airlines and varied flights from Rochester - it's just to bad that the airport is 2 1/2 hours from home!
The flight was pretty uneventful. We left Rochester and flew into Atlanta - one of my least favorite airports. Way to crowded, a bit outdated, although it appears as though they are attempting to make improvements. A bit of a layover there (less than a half hour actually - pretty much went from one plane to the next with enough time to catch our breath). Into Orlando on Sunday morning, good timing, we were ready to be off and running! I mean, heck, the Mouse was waiting for us ya know?? Then, we hit the first snag of our trip (for anyone that knows us, or has followed our travels, you know our trips usually hit a few 'snags'). One hour - one...friggin...hour... - between the time we hit the luggage carousel and when our bags finally arrived. Not cool as far as our 'timing' works out ya know? However, as Jill pointed out, you can't expect stellar service when you are travelling on a 'value' airline. Bags in hand, we headed to the Hertz terminal. This time around, we had a Chevy Cobalt Sedan. Good car, functional air conditioning, did well to get us from point A to point B.
We were staying at the All-Star Sports resort this trip. In March, we stayed at Port Orleans and found that we liked staying on site. So, we are going to try and make a tour of the on site resorts. Anywho, we headed there first, instead of the parks, because we were on the Disney Dining Plan this trip - or as Jill affectionately called it, the Disney Glutoney Plan. So, we grabbed our 'Keys to the Kingdom' and headed straight to....Epcot. Our usual MO was to hit the Magic Kingdom, but we had dinner reservations at Les' Cellier, so we decided to go there first.
DAY ONE - EPCOT
Our foray into Epcot began in Future World. We headed in and to the right to begin with. Since we hadn't eaten in quite a few hours (our last meal was prior to getting on the plane in Rochester) we went directly to the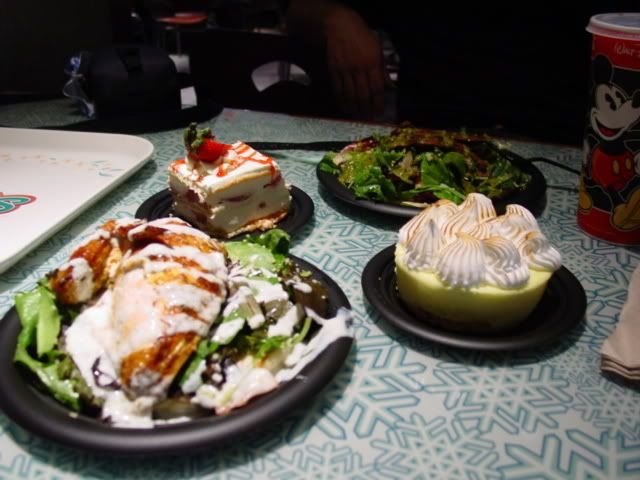 "Sunshine Season Food Fair" in "The Land". Having eaten there before, we knew the portions were plentiful and tasty, but hey we were on the Glutoney Plan to have at it ya know!! Jill had a chicken dish with carrot cake for dessert, and I had a steak dish with strawberry shortcake, and we both had diet cokes to drink. The dishes proved to be to much for either of us to finish, but we really didn't mind since it was FREE!!
After lunch we headed to 'Soarin'. We had FastPasses that we had obtained prior to lunch, so we were able to 'soar' right onto the ride! Very cool ride for people of all ages - I would definately recommend it! The lines were very short this time around - the last time we were down, the ride was still fairly new and the wait was long. After coming out of Soarin, we went to "Journey Into Imagination", complete with 'Figment'. Figment has been an Epcot fixture since the beginning it seems, although his popularity seems to be limited to visitors at Epcot. From there, we headed to "The Living Seas", complete with it's newest attraction "Turtle Talk With Crush". It's a totally digital experience (sounds kind of Disney doesn't it? LOL!). Anyways, Crush is live and somewhat in (animated) person in this attraction, and he interacts with the crowd. Talk about cool!
Our visit to "The Living Seas" completed the buildings on the 'right' side of Future World, so we made our way over to the 'left' side. I rode on Mission:Space (the fully functional version), then we grabbed a FastPass for Test Track, and decided to spend the time waiting for our FastPass to take effect by going to "Ellen's Energy Adventure". This ride seems to be getting a bit 'dated' in relation to the other newer and revamped attractions at Epcot, and I would be willing to bet it's only a matter of time before it's closed and a new attraction rises in its wake. After chasing dinosaur's with Ellen, we used our FastPasses and rode Test Track, definately one of our more favorite rides in the Disney kingdom. With the small crowds, we pretty much had no waiting to ride Test Track, which is kind of suprising because even with the Fast Pass we've been known to have to wait quite a bit to get on the ride.
With the exception of Spaceship Earth (which we skipped entirely this trip - we usually save it for dead last and it usually puts us to sleep) we had finished the Future World, so it was on to the World Showcase!
Mexico is the first country you come to in the World Showcase (if you're travelling clockwise), and it leads us to our first 'drink' of the day.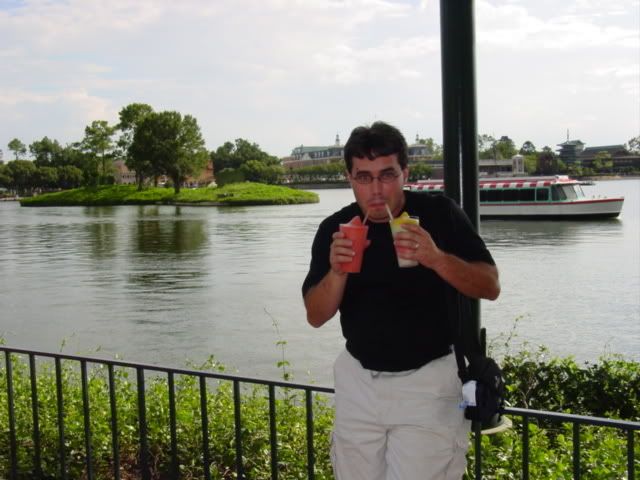 Margarita's! Always a good drink to start with when one is trying to drink themselves 'around the world'. Jill has a 'Fiesta' one, which is a combination of all flavors available, and for myself, always the traditionalist, a 'strawberry' one. We headed into the Mexico Pavilion after enjoying our first libations, and rode 'El Rio Del Tiempo', or "The River of Time". After taking a trip through time, we strolled through the shops in the pavilion, tried on a couple of sombreros (the first of many hats we would don during our trip around the world and through the parks), and then pretty much ran out of the place! Why you ask? Well, seeing as how this trip was very close in relation to Jill's birthday, I procured her a 'birthday button' when we came into Epcot. While perusing the shops in Mexico, three or four cast members began singing a Mexican birthday song to Jill while following her wherever she walked. We decided they were just a little over the top and headed out.
On to Norway! "Back, back, over the falls!" Trolls inhabit this part of the World Showcase, at least throughout the Maelstrom adventure cruise, yet another of our favorite and regular attractions at Epcot. After escaping the evil trolls, we browsed through the shop (taking another cool picture with a helmet and swords!) and then stopped into the snack shop and bought a pretzel frosted with yummy icing! I'm pretty sure we took a demit on alcohol at this stop, opting for a diet coke instead (hey, even us lush's have to pace ourselves!).
Next - Germany! The land of lederhosen, sauerkraut, and most importantly! Riesling! We hit a few of the shops in the Germany Pavilion and stopped into the wine shop for some more alcohol. Unless you want to shop or eat, however, there really isn't anything to do in Germany. That being said, we moved on to Italy!
In Italy there is about one choice for drinking ourselves around the world - and that's Rosa Regal. A bubbly concoction that goes down real easy!
The Italy Showcase is much like Germany - a few shops, a restaurant, some street performers from time to time, but otherwise it's a quick trip through on your way to the rest of the world. Morocco and the American Adventure came next, and after a few more hats and shops we continued on around the world. We both had decided to cut ourselves off after Italy, so we drank ourselves half way around the world I guess! (we'll finish the other half when we go to Orlando again next week!).
France, Great Britain, and Canada make up the right wing of the World Showcase at Epcot. As good planning would have it, we arrived at the Canadian Pavilion fairly close to the time of our reservations at Les Cellier. Neither of us had eaten there before, but had heard good things about the restaurant and since we were on the gluttony plan we decided to indulge.
============================================================================
Coming home we flew AirTran - flight 421 from Orlando to Baltimore (seats 10A and 10C)...left Orlando at 6:10PM, arrived in Baltimore at 8:16PM...
Total Driving Mileage: 320 Miles
Total Air Mileage: 2060 Miles
Total Miles: 2380 Miles