Kingston, Ontario
Nedrow, New York
Friday, November 7, 2008 - Saturday, November 8, 2008
Jill and I decided late on Friday that we didn't feel like hanging around Binghamton, so we packed a quick bag and headed north. We had been wanting to see a game at the new rink in Kingston, and this was the perfect opportunity to do so. The drive up was uneventful, although the Canadian guard at the border crossing was a bit more serious (and wearing a bullet proof vest) than they have been in the past.
We arrived in Kingston right around 7:30 and found the rink (and parking) without a problem. Kingston seems like a very nice city, and wasn't at all what we were expecting. The rink itself, well what's to say. It was just opened this past February, and it seems as though they got their money's worth when they built it. Our only complaint would be that the concourse doesn't wrap all the way around the building; you can only walk 2/3's of the way around the lower concourse, and only about 3/4's of the way around the upper concourse.
We started out sitting right on the glass, just inside of the blue line, for the first two periods, and then we moved to the end to watch the third period. We had a couple of beers (Coors Light - what's up with that being the only 'light' beer?) and some poutine! After the game we headed back south and into the US.
We drove as far as Syracuse/Liverpool on our way back, spending the night at the Knights Inn in Liverpool (room 233, 60.00 for the night). On Saturday morning, Jill and I had a Level 3 coach's clinic at West Genny High School in Camillus. After the clinic, we scooted over to the rink in Nedrow where Michael was playing. This was his first Pee Wee B start of the season, with his new pads and new stick! Michael played the entire game and shut out the home side, with our B-Sens winning 11-0.
Stopped in Cortland at the Community Diner for some lunch/dinner before driving the rest of the way home.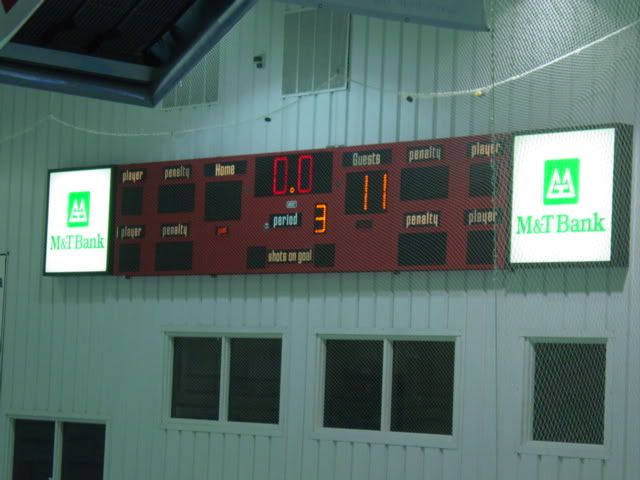 Way to go Mike! A shut out!

Mike at the ready!

Team hording Mike after his shut out win!
Belleville Bulls 3 at Kingston Frontenacs 0 - Status: Final
Nov 7, 2008 - K-Rock Centre
1st Period
Scoring - No Scoring
Penalties - N. Moon Kgn (tripping) 1:00, Served by A. Bathgate Belv (too many men) 3:20, Served by K. Geoffrey Kgn (too many men) 4:09, M. Tipoff Belv (boarding) 20:00
2nd Period
Scoring - 1. Belleville, B. Cameron (12) (M. Cantin, E. Tangradi) 7:36
Penalties - C. Alcock Belv (hooking) 10:59, Served by J. Brown Kgn (too many men) 18:30
3rd Period
Scoring - 2. Belleville, B. Cameron (13) (E. Tangradi, S. Lalonde) 0:38 3. Belleville, B. Cameron (14) (E. Tangradi, S. Lalonde) 17:51 PP
Penalties - P. Stevens Kgn (charging) 8:00, J. Brittain Kgn (slashing) 10:57, L. Judson Belv (interference) 13:02, E. Werek Kgn (hooking) 17:25
BELV Shots: 13 13 12 TOTAL: 38
KGN Shots: 11 11 5 TOTAL: 27
Power Play Conversion
Belleville Bulls 1-6. Kingston Frontenacs 0-4.
Goaltenders
Belleville Bulls
Murphy 10-3-1-1 Start: 1st 0:00 Min: 60:00 SV: 27 GA: 0 [W]
Kingston Frontenacs
Parks 5-7-4-0 Start: 1st 0:00 Min: 60:00 SV: 35 GA: 3 [L]
Start : 7:32 PM
End : 9:32 PM
Attendance : 3320
Referee I: Matt Parlette (11)
Referee II: Ben Buxton (14)
LINESMAN I: Patrick Brown (83)
LINESMAN II: Brian Hoard (40)
Total Mileage: 438 Miles