Flushing, New York
Sunday, June 15, 2008
In what is quickly becoming a 'tradition' for us on the Mother's and Father's Day's, we found ourselves once again at Shea Stadium (yeah!!). And this trip, I mean we were in the HEART of Shea Stadium!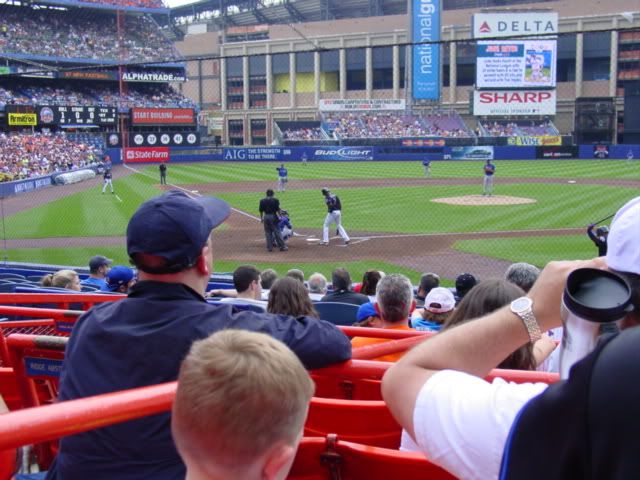 Not a 'zoomed' picture, this was the ACTUAL view from our seats!
Jill hit a homerun on this Father's Day! I said all that I really wanted to do was go to a baseball game, and lo and behold Jill found that the Mets were home and then on top of that scored the best seats we have ever sat in for a major league game!
We left on Sunday morning after I got out of work, leaving around 9:00 or so. We stopped once to put gas in the car (in PA since the prices in New York were a bit higher!). We pulled into the parking lot at Shea around 11:50 or so, and made our way into the stadium. We went straight for the main concourse with one mission in mind - Mama's of Corona! This little gem on the field level at Shea serves up some DE-LI-CIOUS sandwiches! On a previous trip (see the Flushing trip in May of this year) we also scored some sammies from here as well! We grabbed a couple of beers (in really cool souvenir type bottles) as well as some Nathan's fries (can't do without those!) and off to our seats we went (see the AWESOME view above!!).
An added bonus for us on this day was the misfortune for many Mets fans the night before. A bad rain storm blew through New York on Saturday night, so that game was cancelled and rescheduled as part of a one ticket doubleheader on Sunday. Yep, that's right, two games for the price of one!! Can't beat that!
Throughout both games, we ordered up some snacks from the waiters that serviced the area we were sitting in. By the fourth inning in the second game, the place had cleared out pretty much, with much of the field level, mezzanine, and upper reserved emptied out. Oddly enough, the loge section was still pretty full! We stuck it out through both games, and were rewarded with a Mets win in the second game of the two.
After the game, we made our way back to Binghamton arriving home around 11:30.

Holy crap! David Wright is looking right at us!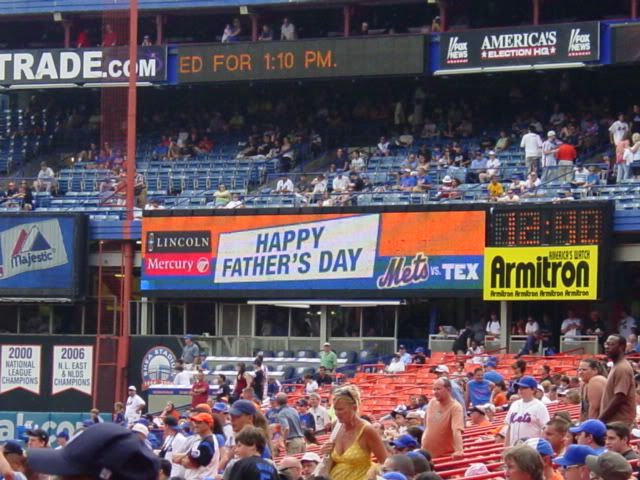 I don't think there is any better Father's Day present in the world!

Mr. Met entertaining the crowd

Our obligatory 'self-portrait'

Little did he know, this would be the last game Willie Randolph managed the New York Mets at Shea Stadium - he was fired the next day.