The Rehearsal
Tuesday, December 5, 2006



With all of the 'travel dramatics' from the night before, our initial plan for this morning was to let the kids sleep in a bit before we got moving. The tuxedo shop didn't open until 10:00, and since that was the goal to accomplish this morning a little sleeping in wasn't a problem. The kids had other plans. They hadn't seen each other the night before, so that probably got them up and moving earlier. So, up and dressed and out the door we were.
Considering it was a short drive away, we decided to eat breakfast in the food court at Port Orleans Riverside. This would be another instance where we were surrounded by Pop Warner cheerleaders, and would add to our overall disdain for them. Although they weren't as bad in the parks and such, the cheerleaders seemed to have the run of the place at Port Orleans with very little adult supervision. Jill and I both made a mental note that if we found ourselves at Disney again during Pop Warner week (which we undoubtedly will), to not stay at a resort the cheerleaders are staying at.
Our stomachs full of Mickey shaped waffles, we headed towards the Contemporary to pick up my father so he could go with us to pick up his tuxedo.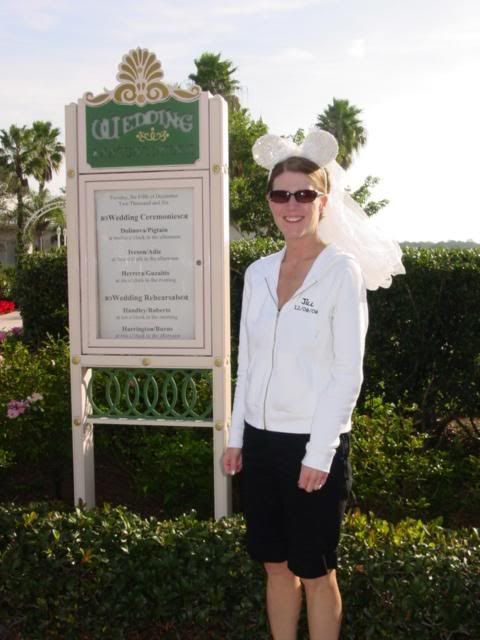 We found that we were 'in the area' a bit early, so we took the kids over to see the wedding pavilion live and in person (up to this point, they had only seen pictures of the place). Much to our surprise and elation, we found that our rehearsal was listed on the marquee for the day - one further indication that, yes, we were in fact going to be married at Disney!
At 9:30 sharp, we arrived at the Contemporary to pick up my father. He was to meet us in the lobby at that point. Of course, with the late night the night before, it didn't surprise me at all then I got to the lobby and found that he wasn't there. A quick search of both the main lobby by the registration desk and the upstairs lobby by the stores and I began to realize that dad wasn't going to meet us on time. In fact, I knew he more than likely had overslept. Problem was, I had no idea where his room (and my aunts room) was. I returned to the registration desk and explained the situation to the nice lady there. She dialed the phone to my fathers room and gave it to me so I could talk with him, finding only that he didn't answer the phone and it went to the voice mail. Option number two was to call my aunt, which the nice registration lady was more than happy to do. My aunt answered, told me which room they were in, and said she would bang on the adjoining door to try and wake him up. I hung up there and figured I would find their room to help dad 'move it along' if he had in fact slept in. Problem was, their room was in the east wing and about a half mile walk from the main lobby!! Half way to the room I ran into both dad and Aunt Cathy. Sure enough, dad had overslept, which meant for the rest of the morning he was pretty much out of it.
We left Aunt Cathy to get some breakfast, then dad and I loaded up into the truck with the rest of the waiting brood, and it was off to the tux store! The morning had already been somewhat eventful, so you can imagine my trepidation at picking up the tuxedos and hoping that they were all in order. However, much to our surprise and relief, all was well with the tuxes. Of course, now beyond a full vehicle we had to find somewhere to put four tux bags. We enlisted Sara's lap for a couple of them and made our way back to Disney property. (we would find out later that all was not 100% with our trip to the Men's Wearhouse).
Upon returning to the Contemporary, we found Aunt Cathy pretty much in the same spot we had left her. She was sitting on one of the couches near the registration desk, watching cartoons with a gaggle of various aged children. It was actually a pretty funny site to see! I walked dad and Aunt Cathy back to their room (to help dad getting his tux there), and then Jill and I along with the troops headed out to find some lunch.
We realized at this point that there wasn't any way we were going to be able to get to any parks today with the delay and amount of time it took to pick up the tuxedos. So, we decided to do lunch and then take the kids back to the hotel to swim a bit before the rehearsal and dinner. Lunch was at the House of Blues in Downtown Disney, complete with alcoholic beverages for Jill and I (it had been a LONG morning/early afternoon getting the tuxedos and dealing with the extended family that we had around us). After lunch we headed back to the hotel so the kids could go swimming.
It was at this point that we realized the faux pau in regards to picking up the tuxedos. The camera case. Yep, you guessed it, it was still on the table back at the Men's Wearhouse. Oops! So while Jill shuffled the kids off to the pool, I jumped back into the truck and flew (were talkin' FLEW by even Jill's standards!) back to the Mens Wearhouse to retrieve the camera case. Of particular importance in getting the camera case back was the fact that I always keep all of our 'vital' cards in it - room key's (luckily I had one in my wallet), park tickets, credit cards, drivers license, etc. You can see why we freaked out a bit when we discovered we didn't have it!
I arrived back at the hotel just in time to get dressed, comb my hair, make sure the kids were assembled correctly (all done in about fifteen minutes) before heading back out to the Contemporary Convention Center for the wedding rehearsal. (I was panting a bit by then!! LOL!!)
Our rehearsal was held at the Convention Center instead of the Wedding Pavilion because there was a wedding going on at our rehearsal time. There was a 'backup' location at the Polynesean that we could have used (and thereby been at the same site as our rehearsal dinner), but even that spot had a potential conflict with an ongoing wedding, so we decided to play it safe and use the space that we were assurd of having.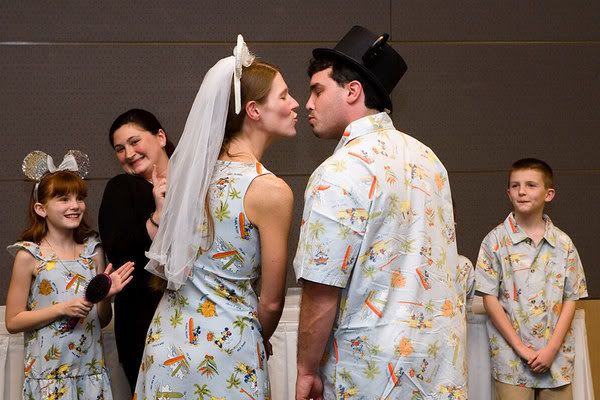 Reverand Jack was busy doing a wedding himself, so our wedding planner Maxine Polakis filled in for him. My dad and Aunt Cathy, as well as Jill's parents were also present for the rehearsal. Everyone looked relaxed as we knew we'd be headed to the rehearsal party after we were through at the Contemporary. Jill had to use Sara's brush as her 'bouquet'. Our photographers, Sam and Jenn, also showed up to introduce themselves to the group, as well as to go over last minute details.
I'd have to say, as I remember the events of the rehearsal, I don't think that the 'reality' of it all had sunk in yet. Jill and I both remained very calm, without a hint of nervousness. Maybe it was because we knew it was meant to be, maybe we knew that fate had brought us to that moment in time together, but whatever it was the relative peace that we both felt was nice before the 'big day'.
We went through the ceremony a couple of times, and when we were satisfied that the kids and family members knew what to do, it was off to Ohana!
Total Mileage: 3095 Miles