Cleveland, Ohio
Wednesday, March 19, 2008 - Saturday, March 22, 2008
Our latest (and last) hockey adventure of the 07-08 season took us to that hockey hotbed, Cleveland, OhiO! Not really (the hockey hotbed thing), but we did head to Cleveland to watch the Lake Erie Monsters play. Michael had 'adopted' this team for some reason this season, so we thought a good Christmas present would be a trip to watch his Monsters.
Our adventure actually started before we even left when we found that the strut in Jill's car was trying to bust its way through the hood! (so THAT'S what that noise was a couple of weeks ago when we were going to Buffalo!). So, the car was out of service for this jaunt and it was off to Binghamton Regional Airport to rent a vehicle. Our trusty Ford Taurus acquired, it was west to Cleveland!
Actually, on Wednesday night we planned on going as far as Erie - a four hour trip from Binghamton, not quite as harsh as the six hours to Cleveland. Before leaving, we checked the weather forecast and found that there was a pretty good rain storm headed our way. We figured we had timed it pretty good though as we headed along 17, a little rain but nothing major. Around Jamestown, I noticed that the precipitation had 'changed' a bit, and started to look like snow. We were at about dusk at this point, so I couldn't really tell. I fired up the old weather program on my cell phone….and went "Oh crap"….there was a clear delineation line between rain and snow, and we had just crossed it! Within literally fifteen miles we went from a little snow, to a full blown blizzard. We couldn't see the road, the snow was piling up on either side of the car as we continued on, and then as if it couldn't get any worse - fog! Yep, fog. Never in our lives had we seen such a thing. It was snowing like crazy and there was fog everywhere. Jill did an awesome job to get us safely to our exit without incident.
We found a Quaker Steak and Lube just off of the exit and grabbed a quick bite to eat before heading off to the Country Inn and Suites (which was right up the road from where we had dinner). Ironically, the last time we stayed at this particular Country Inn and Suites was a few years back (see our Sandusky, Ohio recap) after barely making it off of the interstate because the driving was so bad - the WORST rain storm we had ever driven in in our lives! What is it with this stretch of road and bad weather??
A quick (and terrible) breakfast and we headed out for Cleveland on Thursday morning. We reached Cleveland about midday and went to the Cleveland Museum of Natural History. Lots of old bones to be seen there! Dinosaur bones that is! There was also an outside habitat with a number of different (live) birds and animals, including one very cute otter named Lucy.
After the museum, we made our way downtown to the Cleveland Marriot Downtown at Key Tower (127 Public Square - $320.39 for entire stay). A very nice, and well situated, hotel in the middle of downtown Cleveland. Dropped the bags off in the room, and then we went to Tower City for some lunch at the Hard Rock Café. Then it was back to the hotel so Mike could swim for a bit before walking back up to the Quicken Loans Arena for the hockey game.
Cleveland is another major league town trying to support a minor league team. After watching this game though, I'd be willing to bet the Monsters will go the way of many of Cleveland's other past hockey teams - to greener pastures.
The Quicken Loans Arena, or "The Q" for short, is a nicer major league arena. Wide concourses, two levels, skyboxes low and high (the closest luxury boxes to a playing surface anywhere), great looking scoreboard. The Monsters staff obviously tries very hard to make the 'game experience' just that - more than just watching a hockey game, but an overall experience. I don't know if this comes from being in a town where the crowd expects more than what is being played on the ice/court/field or what, but from a hockey purist like myself, it's damn annoying. After watching games in places like the Bell Centre, Scotiabank Place, and our very own BCVMA where people go to watch the game, cheer at appropriate times (without aid of the scoreboard), and don't need a constant tutorial of the game, this was quite a different experience. Cheerleaders and the mascot met fans at the entrance as folks came in, there was a couple of tables where you could make your own 'sign', and there was an area for the kids where they could get their face painted, hair colored, and tatoos applied. The in game was full of loud music, cues for the fans to 'make some noise', and lots of 'in the stands' promotions. Worst of all, the on ice product was horrible - the Colorado Avalanche have a serious problem in their minor league system. That being said, no one in the stands really realized this. Heard this from the folks that sat behind us: "There are five players from each team on the floor at a time." Or how about "The guys in the red shirts are pretty good at the power play". It was just a pathetic display of fandom, or lack thereof. It's no wonder that Cleveland is unable to keep a hockey team at any level. The Cavs, Indians, and Browns rule in this town, and everyone else is an afterthought.
We went back to the hotel after the game and hit the workout area for a while - very nice set up with treadmills, a pool, and a sauna with other accoutrements.
On Friday morning we got up and had a much better breakfast at "David's", the restaurant in the hotel. A full buffet that even included an omelets station. After breakfast, we walked down to the Rock & Roll Hall of Fame to tour that Cleveland "must see". Lots of stuff to look at, and overall it was pretty neat (I'd put pictures up on the site, but they don't allow cameras in the Hall of Fame), but a bit steep with the price (it was $57.00 for all three of us).
We ate lunch at a place called the Fat Fish Blue, which was a New Orleans themed restaurant at the corner of Prospect Street and Ontario near Tower City. Jill had a fried shrimp po' boy, I had a muffaleta, and Mike had crab cakes. Afterwards, we went back to the hotel so Mike could swim for a bit and rest before the Cavs game.
This would be Jill and I's second NBA game and Michael's first. It goes without saying that (NBA) basketball isn't our favorite, but the consummate sports fans that we are - if we're in a city and they're playing we'll head to a game. Also, considering our 'home' of choice will be Orlando someday, we might better start liking the NBA game now. One added caveat to this game was the fact that LeBron James would be playing for the Cavaliers and on this night all he needed was five points to become the all time leading scorer in Cleveland.
The atmosphere was a bit different on this night, and it was quite a bit more crowded as well. It's apparent that the Monsters have tried to take a page out of the Cavs promotional playbook as there were quite a few crossover items from last night (face painting, hair coloring, sign making, etc). We walked a bit around the lower concourse, took a look at the court from that level (met a very nice usher that told us to come back down at halftime and he might be able to get us into his section if there were any empty seats). Then we headed upstairs. The concourse upstairs was a bit more narrow than the first level, but overall the amenities were similar. The concession stands all had the same food, except there were a couple of specialty stands downstairs that weren't replicated upstairs. Our seats were even with the key, across from the Cavs bench, a bit higher up tonight than last night. The Cavs played a good game, LeBron scored his record breaking basket (and then some) and the home team came out on top at the end (it's always a good night when Toronto loses, no matter what sport it is!). After the game, we walked back to the hotel in a blizzard - white from top to bottom by the time we saw the Marriott! Darn lake effect snow!
On Saturday morning, we ventured over to the West Side Market, a classic market with booths lining up and down and crossways in a huge building with a high arched ceiling. We have been in similar markets in Philly, Seattle, Baltimore, Boston, and Montreal. Each has their own personality, and each has their own highlights, and this one was no different. Each time we leave one of these types of markets, we leave longing to have one at home.
We browsed through the market, making purchases at the candy stand, the olive vendor, the pasta station, and the bakery. After we had loaded our wares into the car, we started the long trip home.
Figuring it was our best chance to grab some lunch, we stopped (once again) at the Quaker Steak & Lube in Erie before heading across 86 and 17 before finally arriving home around 6:30.
Rochester Americans 5 (OT) at Lake Erie Monsters 4 - Status: Final OT
Mar 20, 2008 - Quicken Loans Arena
1st Period
Scoring - 1. Rochester, M. Gragnani (10) (C. MacArthur, D. Hunter) 6:01 PP 2. Rochester, R. Globke (9) (D. Larman) 13:51
Penalties - M. Zagrapan Rch (tripping) 2:35, D. Hunter Rch (tripping) 3:28, W. Smith Lem (hooking) 5:28, J. Jillson Lem (tripping) 6:12, J. Henry Rch (roughing) 14:51, F. MacDonald Rch (interference) 19:18
2nd Period
Scoring - 3. Lake Erie, C. Stewart (21) (E. Healey, B. Richardson) 3:46 4. Lake Erie, D. DaSilva (9) (M. Vernace, T. Hensick) 9:07 5. Lake Erie, W. Smith (13) (V. Denisov, W. O'Neill) 12:27 SH 6. Lake Erie, R. Drummond (2) (J. Lundmark) 17:54
Penalties - J. Boychuk Lem (holding) 11:11, S. Meyer Rch (roughing) 20:00, V. Denisov Lem (roughing) 20:00
3rd Period
Scoring - 7. Rochester, T. Goebel (1) (S. Meyer, D. Brine) 2:57 8. Rochester, T. Glass (3) (J. Henry, P. Baier) 14:55
Penalties - T. Glass Rch (roughing) 5:25, J. Jillson Lem (roughing) 5:25, J. Boychuk Lem (interference) 12:11
OT Period
Scoring - 9. Rochester, D. Brine (8) (T. Goebel, M. Gragnani) 2:55
Penalties - No Penalties
RCH Shots: 15 12 12 7 TOTAL: 46
LEM Shots: 9 12 11 1 TOTAL: 33
Power Play Conversion
Rochester Americans 1-4. Lake Erie Monsters 0-4.
Goaltenders
Rochester Americans
Dennis 15-21-2 Start: 1st 0:00 Min: 62:55 SV: 29 GA: 4 [W]
Lake Erie Monsters
Weiman 9-14-1 Start: 1st 0:00 Min: 62:51 SV: 41 GA: 5 [L]
Start : 7:08 PM
End : 9:36 PM
Attendance : 4436
Referee I: Tudor Floru (14)
Referee II:
LINESMAN I: Fraser McIntyre (94)
LINESMAN II: Johnathan Morrison (32)
Cleveland 90, Toronto 83
CLEVELAND, March 21 (AP) - LeBron James walked to the center of the floor as fans who have watched him grow from local teenage prodigy to NBA superstar drowned him in cheers.
As they stood and screamed, James returned their love by blowing kisses.
The kid from nearby Akron has done it all so quickly, in the blink of an eye.
From the franchise's top pick to its top scorer - in less than five years.
"The crazy thing about it is that he's 23,'' Cavaliers coach Mike Brown said. "Absolutely amazing.''
James passed Brad Daugherty as Cleveland's career scoring leader in the first quarter and finished with 29 points, leading the Cavaliers to a 90-83 win over the Toronto Raptors on Friday night in a possible first-round playoff preview.
In just his fifth NBA season, James has already moved to the top of Cleveland's scoring chart, a remarkable achievement for a remarkable player whose potential seems limitless. He scored 23 points in the second half, including 11 in the final 7:19 as the Cavaliers won their ninth straight at home.
When the final horn sounded, James was handed the game ball by referee Dick Bavetta before his mother, Gloria, rushed on the floor to plant a kiss on her only child.
"I think I made my mom proud,'' he said.
And just about everyone else in Northeast Ohio.
In hardly no time at all, he has resurrected the Cavaliers, first leading them back to the playoffs and then all they way to the NBA finals for the first time. He has given Cleveland sports fans a reasonable hope that one of the city's star-crossed pro teams may end a four-decades-old world title drought.
It took Daugherty 548 games to amass 10,389 points. James, the NBA's leading scorer, has 10,414 points in just 380 games.
"It took me 13 years to get 10,000 points,'' Cavs forward Joe Smith said. "It goes to show what kind of talent he is. I know he has at least 30,000 more in him.''
Zydrunas Ilgauskas had 16 points, Devin Brown scored 14 and Damon Jones knocked down two crucial 3-pointers early in the fourth for Cleveland, which opened a 4 1/2-game lead over the Raptors for the No. 4 spot in the Eastern Conference.
Chris Bosh scored 24 points in his second game back after missing 10 with a sore knee for Toronto, which slipped to No. 6 in the East. Rasho Nesterovic added 16 for the Raptors, who held the Miami Heat to 54 points in a win on Wednesday night.
They would have no such luck containing James, who had his usual assortment of thundering dunks, drives and clutch jumpers.
"He had a couple of dunks where we didn't rotate over and he got to the rim,'' Bosh said. "We should have been a little smarter than that.''
James came in needing just five points to overtake Daugherty, and he pushed past the former All-Star center in fitting fashion.
Powering through traffic in the lane, James went strong to the basket and muscled in one of his patented, scooping layups.
The sellout crowd at Quicken Loans Arena immediately rose to give James a thundering ovation and when Brown called a timeout, the All-Star forward first walked to the bench to receive high-fives and hugs from his teammates.
Then, he walked to the center of the court to acknowledge Cleveland's fans, who serenaded him with "MVP'' chants throughout the evening.
"These fans have watched me go from zero points to 10,000,'' he said. "They've seen me go from a young man to a man now. It's one of the best experiences I've had. To be the all-time leader is something that I never dreamed of. But now that it's here, it's an unbelievable feeling.''
The Raptors nearly spoiled James' historic night, pulling even at 77 on T.J. Ford's jumper with 5:24 left. But James' dunk made it 81-77, and after Bosh scored, Ilgauskas made two free throws to give Cleveland an 83-79 cushion.
James, who always has a flair for the dramatic, then hit a 3-pointer to put the Cavs up 86-79 and end Toronto's upset bid.
Trailing by nine in the second quarter, the Raptors scratched within three by halftime and took the lead midway through the third on consecutive 3-pointers by Anthony Parker.
At that point, James was the only one doing anything for Cleveland. He scored 10 straight points and 12 of the Cavs' first 14 in the period, but it wasn't enough as the Raptors took a 67-63 lead into the fourth.
Cleveland's Ben Wallace went out with back spasms in the third and didn't return. He missed a game last week with the same problem.
Notes: The Cavs have won 12 of 14 vs. the Raptors. ... Brown proudly wore a powder blue San Diego Toreros T-shirt to his pregame media availability. Brown played guard for the school, which knocked off Connecticut in Friday's NCAA tournament. "A Torero is a bullfighter for everyone who didn't know,'' Brown said. "My oldest son isn't too happy, he picked UConn in his bracket.'' As Brown was talking, Cavs guard Eric Snow walked by and yelled, "Front runner. You haven't worn that shirt in four years.'' ... Cavs G Daniel Gibson has targeted next Wednesday's game against New Orleans for his return from an ankle sprain. ... Referee Brian Forte became ill before the game and remained back in the dressing room, leaving Bavetta and Violet Palmer to work the game as a two-person crew.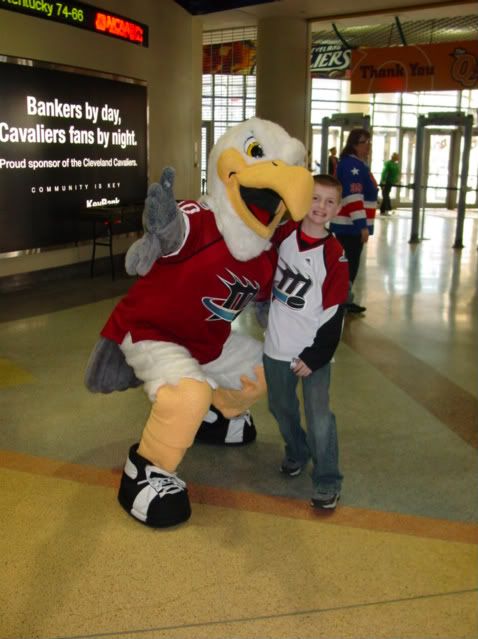 Mike with the Monsters mascot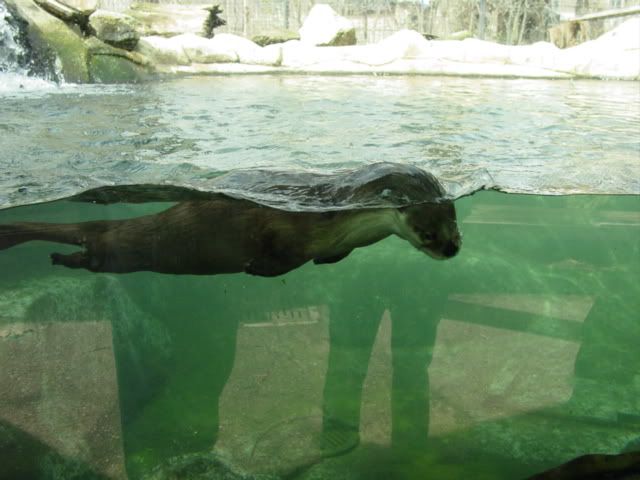 The otter at the Natural History Museum

Uh....Mike with a couple of friends?

Inside Quicken Loans Arena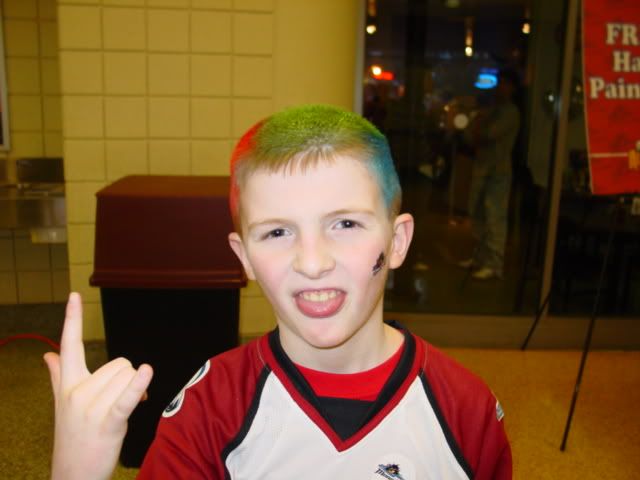 Mike with a new doo!
Total Miles: 733 Miles